Hammer Fitness
HAMMER Ultra Power Station
HAMMER Ultra Power Station
The Compact All-Rounder!
ULTRA UNIVERSALLY ADJUSTABLE
For Chest And Back Training
The push unit can be adjusted both forward (bench press), as well as to the rear (rowing). By using different muscle groups, your performance in terms of muscle growth and fat loss will improve significantly and impressive results can be seen in the near future.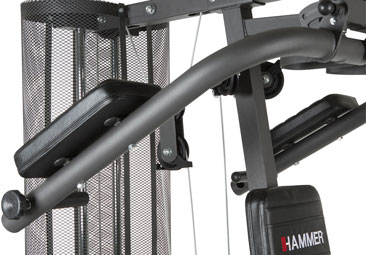 ULTRA EXTENSIVELY ADJUSTABLE
For Optimal Movement Radius
The 3-fold adjustment of the backrest in the direction of the foot cushions is another quality feature of the Ultra power station. By fully extending the backrest, the radius of movement increases when rowing. This leads to a greater attraction of the muscle, which in this case is the back, the biceps and the back of the shoulder muscles. In addition, can be trained by the adjustable backrest, regardless of body size, so that the Ultra can be used by several family members equal.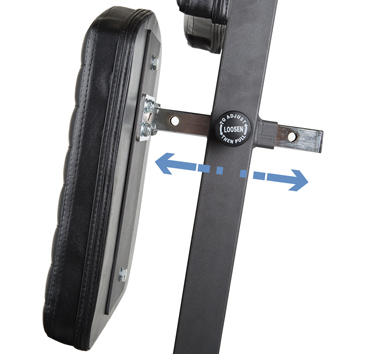 COMFORTABLE BACK CUSHION
For Longer Workouts
The super comfort back pad of the Ultra offers the highest quality and the highest possible comfort. Due to the grooved, comfortable padding, even longer training sessions can be completed painlessly. The elegant design of the upholstery fits into the overall very harmonious image of the multi-gym.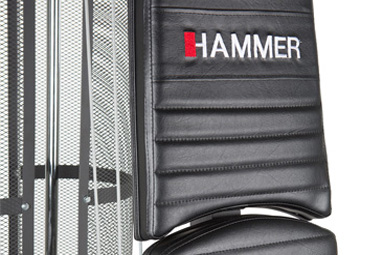 LARGE ADJUSTMENT HOLES
For Highly Efficient Drop Sets
The large adjustment holes of the weight discs ensure extremely fast changeover of the training weight. Within a few moments, the pen can be taken to a new level. With a drop set that reduces the weight as fast as possible after a set and adds another set, you will more than appreciate the adjustment holes. Drop sets lead to a new stimulus of the muscle and accordingly to a faster success in the structure. Lead the body to its own limits - with the Ultra power station, no wishful thinking anymore!
Max user weight: 130kg
Total product weight: 123kg
Assembled dimensions: 167cm L x 105cm W x 200cm H
Exercise options include bench press, workout for legs, biceps, chest, back and shoulders
Max resistance: 80kg